Road work along Finch Ave. W between Westmore Dr. and Kiskadee Dr. (Future Westmore stop) (June 7-30, 2021)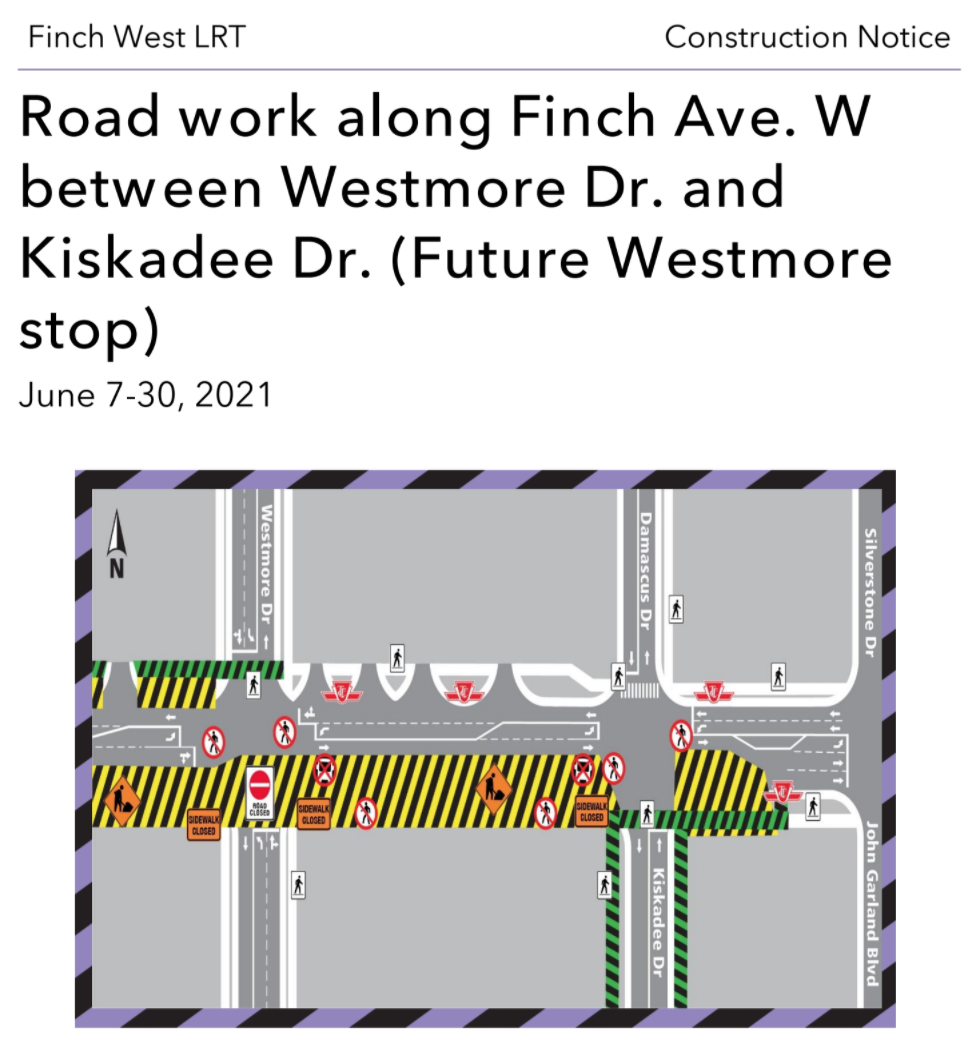 What?
As part of preparatory works to expand Finch Ave. W. and to accommodate the Finch West LRT line, crews will begin with road widening along Finch Ave. W from Westmore Dr. to Kiskadee Dr. Work will begin on Monday, June 7 2021, and take approximately three weeks. Sidewalk on the south side of Finch will be closed during the operation. Sidewalk on the north side will remain open.
WORK HOURS:
Monday, June 7, 2021 at 7 am until Wednesday, June 30, 2021 at 5 pm, approximately.
Work may be rescheduled due to weather conditions or unforeseen circumstances.
WHAT TO EXPECT
Road work along south side of Finch Ave. W from Westmore Dr to approximately 100m east of Kiskadee Dr
Heavy trucks and equipment in the area.
Due to the nature of this work, at times there will be noise, dust and vibration around the work area.
Expect traffic delays near work zones.
TRAFFIC AND PEDESTRIAN DETAILS (SEE MAP):
John Garland Blvd. will provide access to Kiskadee Dr. during the closure.
Bus stops at Westmore Dr. and Kiskadee Dr. will be closed and relocated to the bus stop at John Garland Blvd.
Relocation of bus stops is done in consultation with TTC.
Access to businesses will be maintained, unless otherwise communicated.
Please allow extra time for your journey.
Please take extra care when navigating near work zones, and always make eye contact with the driver.
TTC bus stops will be closed or relocated away from work zones, as needed.
Access to TTC will be maintained at all times.
Please visit www.ttc.ca for more information