IMPORTANT NOTICES
Upcoming
construction and road work

notices

As a business owner and/or resident of Emery Village, you will be impacted by road work and construction in the area. Emery Village BIA will keep you regularly updated with road work and construction notices. The Finch West Light Rail Transit (LRT) is an 11km LRT running along Finch Avenue West between Keele Street and Humber College North Campus. The Finch West LRT will increase capacity and reliability of service along the route, will significantly reducing travel times for transit users on the corridor.

VIEW ALL CONSTRUCTION AND ROAD WORK
acres of land
Established in 2003, Emery is the Largest Employment Area in Ontario with 9.72 sq km or 2,401.864 acres of land.
Employed within the bia
Emery is the Second Largest Employment Zone in Canada, employing over 30,000 people; 90.1% are full-time employees.
businesses
Browse through our full business directory and keep your own business information u
View full directory
Business Grants And Funding
2023 Commercial Façade Improvement
Grant Program
The Commercial Façade Improvement Grant Program provides funding to commercial property owners and tenants of commercial property, to redesign, renovate or restore facades on commercial buildings that are commercial use at street level and may have commercial and or residential uses on upper floors.
Read More
PUBLIC UPDATE
FINCH WEST
GOODS MOVEMENT
TRANSPORTATION MASTER PLAN
LRT construction on Finch Ave West will impact businesses' shipping and freight deliveries, so the City is creating a transportation plan to address these issues. Get informed by clicking the PDF below, and Join the informational event on March 9th
Informational PDF
Business Resources
Emery Village BIA offers regular updates about services for small and large businesses. Click on each below to learn more.
COVID-19 Business Support
View information on upcoming vaccine clinics, updated supports from the province of Ontario as well as the city of Toronto, and resources for businesses.
Emery Village BIA Features
COMMUNITY
The BIA works to improve the lives of the community members and is always coming up with ways to give back. All of our large-scale events, which take place throughout the year, are a great way for outsiders to see the community environment in Emery Village.
Join Our Job Fair on April 13
Become a vendor at out Fair by filling out the following form, or bring your resume and join us at Pinecrest Event Centre from 1-8PM
Become a Vendor
See Available Jobs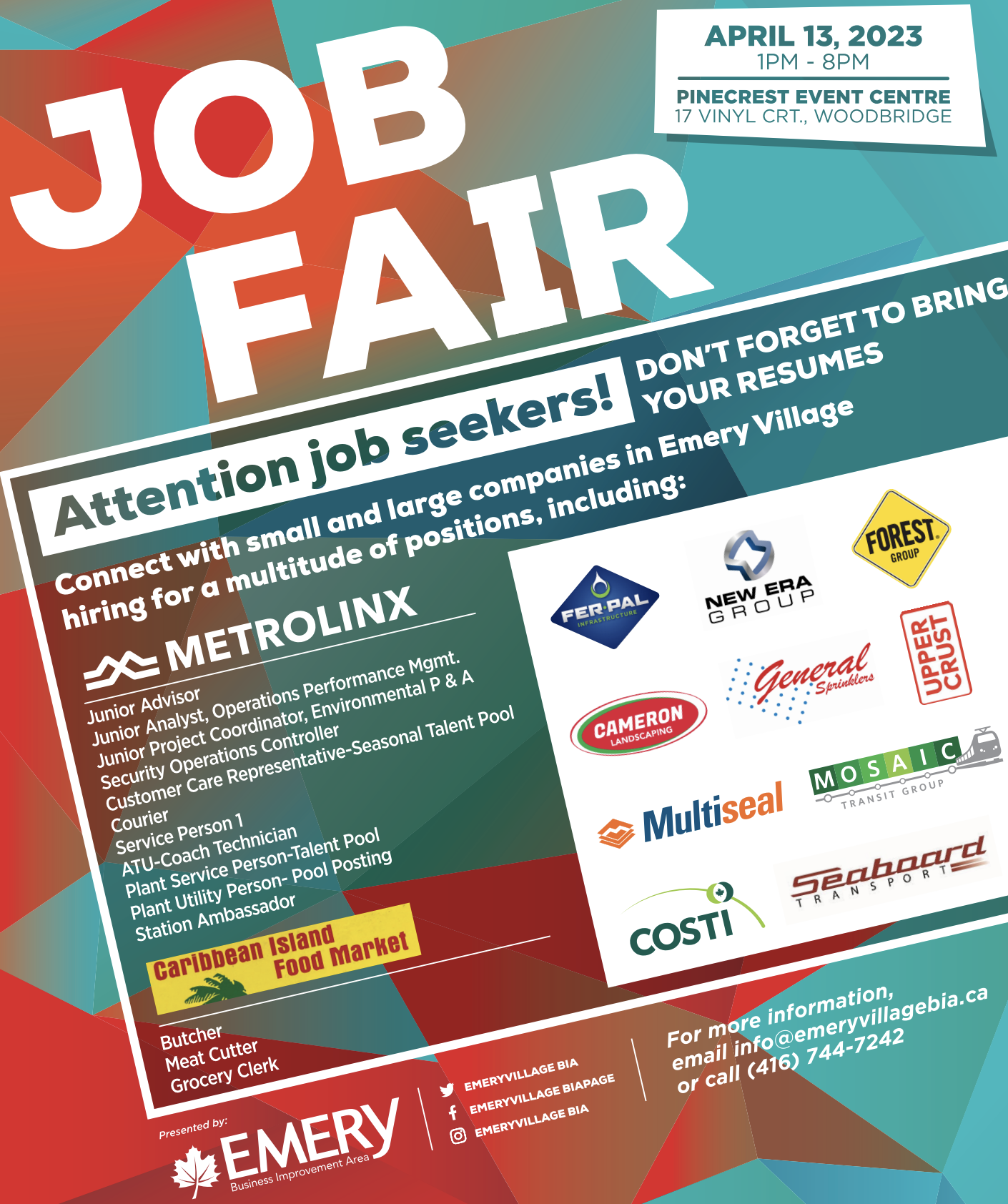 EVENTS CALENDAR
Stay
up-to-date

with Emery's upcoming events.

Emery Village BIA puts on several events for the community throughout the year. Browse through our past events or RSVP for upcoming events in out events calendar.

VIEW FULL EVENTS CALENDAR
Contact us
Use the form below to send us a message and we will get back to you in a timely manner. You can also call us at 416-744-7242 or email info@emeryvillagebia.ca directly.
Subscribe to the Emery Village BIA Newsletter
Receive regular email updates straight to your inbox about business opportunities, funding, events, construction updates, and more.